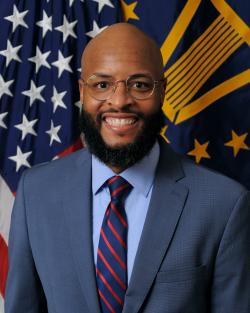 Mr. Jones is a seasoned Senior Executive Services (SES) member who serves as the Chief Operating Officer for the Minority Business Development Agency (MBDA). In his role as MBDA's inaugural COO, Mr. Jones maintains oversight of MBDA's day-to-day operations where he advises the Under Secretary and Deputy Under Secretary of Commerce for Minority Business Development.
Mr. Jones brings more than 24 years of experience, which includes his service in the U.S. Navy and civilian experience that span four Federal Departments and Agencies. He is recognized for his extensive strategic planning, marketing and communications, financial, human capital, and technology resources. He brings over two decades of experience strengthening accountability, standardization, and program execution for small-to-large governmental organizations.
Before joining MBDA, Mr. Jones served as Public Buildings Service (PBS), within the General Services Administration (GSA) Assistant Commissioner for Strategy and Engagement.
As the first-ever SES to lead PBS's Strategy and Engagement Office, he led concept development, Enterprise Risk Management, and Data and Evidence Governance for a $12 billion, 5,500 workforce National Service. In addition to his GSA service, Mr. Jones's earlier assignments include Deputy Secretary, Joint Staff, Chief, Actions Division, and Special Assistant to the Chairman of the Joint Chiefs of Staff; Deputy External Affairs, Chief, Strategy, Outreach, and Plans Division, and Director, Congressional Assessment Program—all within the Department of Homeland Security.
For his role overseeing the Joint Chiefs of Staff's decision-support and policymaking processes, he led efforts to support the Chairman's recommendations to the President and Secretary of Defense, the creation of the sixth military branch, the U.S. Space Force, the establishment of a new Geographic Combatant Command, and more than $300 million in cost savings under the Secretary of Defense's Defense-Wide Review. For his efforts, Mr. Jones achieved the rare feat of being awarded the Chairman of the Joint Staff's highest civilian honor, the Distinguish Civilian Service Award, an honor bestowed upon several national security leaders, including a Secretary of State.
 
The creation of the COO and Under Secretary positions coincide with the passages of the Infrastructure Investment and Jobs Act, which codified more than 50 years of MBDA supporting millions of minority-owned businesses.