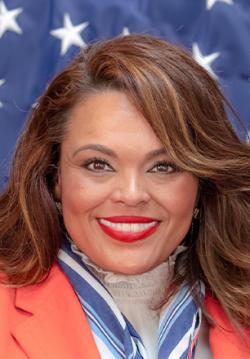 Jessica G. Cavazos was appointed as the first-ever Deputy Under Secretary of Commerce for Minority Business Development on April 24, 2023. Before joining MBDA as Deputy Under Secretary, Ms. Cavazos was the President and CEO of the Wisconsin Latino Chamber of Commerce. She is a leading advocate for economic empowerment and inclusion in the business community, with a focus on promoting opportunities for Latino entrepreneurs and business owners. Jessica has a strong background in political outreach, economic equity, and diverse business development, having previously served as a Congressional Liaison and as the Executive Director of the Volusia County Chamber of Commerce. Ms. Cavazos has extensive experience in government relations, policy, community engagement and business development. She has been recognized nationally for her leadership and commitment to advancing entrepreneurship as a basis for success in historically marginalized communities.
Ms. Cavazos attributes her humble upbringing, strong family values, and mother's immigrant journey, as the foundation of her commitment to lead with purpose and help transform communities by providing greater access to resources. She has a A.A in Broadcasting, B.A in Business Administration, and a Certificate on Latino Nonprofit Leadership from UW-Milwaukee.
Deputy Undersecretary Cavazos is the proud mother of three children and currently resides in Washington, DC.