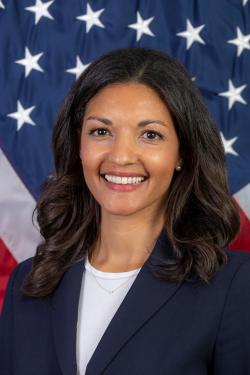 Danae Pauli is a mission driven business executive bringing U.S. and emerging markets experience, a passion for leveling the global playing field and an obsession with people and culture to the historic transformation of the U.S. Department of Commerce's Minority Business Development Agency.
Believing that talent is equally distributed but access to opportunity is not, Ms. Pauli joined the Biden-Harris administration in 2021 as a Senior Advisor for the Minority Business Development Agency (MBDA), where she leads the policy and organizational transformation portfolios. She is deeply passionate about growing exceptional communities to level the global playing field. Originally from Boston, she is an experienced operational leader, growing impact-driven companies in the U.S. and Africa, with a particular expertise in organizational culture.
Ms. Pauli holds an undergraduate degree in Government from Harvard and earned an MBA along with a Certificate in Public Management and Social Innovation from the Stanford Graduate School of Business, where she was recognized as an Arbuckle Leadership Fellow.
She began her career working for non-profit international development organizations across East Africa on issues ranging from post-conflict peace building, health system improvement to empowerment of refugee women and youth. Most recently, she served as East Africa Managing Director for Nova Pioneer, a venture-backed pan-African school network and as a Division Vice President in New York for DaVita, a Fortune 200 healthcare services company.
In 2013, Ms. Pauli co-founded the Stanford Graduate School of Business Women's Circles--the school's fastest growing alumni program--with a focus on supporting female graduates of all ages to thrive personally and professionally.  She also recently joined Delta Education Collective, a movement to revolutionize rural Uganda public primary schools, as Board Chair.