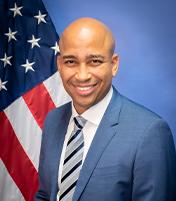 Currently serving as Acting National Director, in June 2021 Miguel Estién was appointed by President Biden to the U.S. Department of Commerce's Minority Business Development Agency (MBDA) where he is leading the Federal Government efforts to strengthen and grow minority-owned firms.
After the historic enactment of the MBDA Act in 2021, Estien is implementing a Congressionally mandated expansion of the Agency including a bolder presence into rural America, the establishment of regional offices, and new programs seeking to advance parity for the nine million minority owned businesses the Agency serves.
Under the legendary Jack Welch, Estien started his 20-year career with GE as part of the rotational financial management program where he held assignments in Budapest, Tokyo and throughout the U.S. and across GE's industrial businesses. He quickly rose to senior management at GE Capital's business finance division in roles leading business units, commercial operations, and mergers & acquisitions deals. Estien is a certified six sigma green belt manager.
Following the devastation of Hurricane Maria, he returned to his native Puerto Rico whereas a social entrepreneur he launched—Puerto Rico Live, a platform to inform, entertain, and inspire. He also coached small businesses and start-ups endeavoring to rebuild Puerto Rico's economy and served on various boards, including the Puerto Rico Education Foundation.
Estién is a Magna cum Laude graduate of the University of Puerto Rico, where he earned a bachelor's degree in finance. He also holds an MBA from the Kellogg School of Management at Northwestern University, and a master's degree in international relations from Georgetown University Miguel, his wife and two children currently reside in Washington, DC.