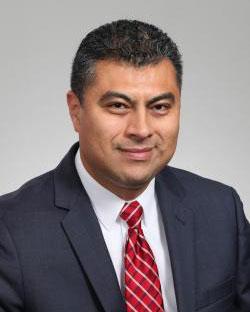 Mr. Lopez joined MBDA in 2008 and currently leads the Office of Administrative and Employee Support Services which supports all aspects of administration for the Agency including oversight of all personnel related activities including recruitment, retention, position management, human capital initiatives, training and development, performance management and awards programs, space and facilities management, property management, telework, Continuity of Operations Planning and travel policy.  Additionally, his office is the liaison with the servicing HR office and IT services.
Prior to joining MBDA, Mr. Lopez worked for 9 years with the United States Postal Service (USPS) in the Northern Virginia District.  He worked as a postal supervisor managing mail delivery operations in Northern Virginia for several years before transitioning to a new role as an Employee and Labor Relations Specialist.  As a specialist, he handled employee and union grievances, conducted contract negotiations with employee unions and represented the Agency as a management advocate in regional arbitration hearings before Administrative Judges. He also represented the USPS in unemployment hearings before claim examiners with the Virginia Employment Commission.
Mr. Lopez joined the U.S. Department of Commerce in 2005 as an Employee and Labor Relations Specialist working for ITA's Office of Human Resources Management. He provided counseling and guidance to supervisors and managers on resolving employee relations issues. Mr. Lopez lives in Northern Virginia with his wife and three boys.