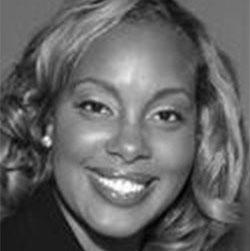 Velicia D. Woods joined the U.S. Department of Commerce Minority Business Development Agency (MBDA) in September 2005.  She is a highly skilled communication executive with more than 15 years of experience in communications, marketing, advocacy, and relationship management.  Ms. Woods currently serves as the MBDA Public Affairs Supervisor responsible for fostering public knowledge of the Agency's programs, services, and accomplishments across all digital platforms, press/media, and public engagements. She also oversees the Agency's strategic alliance and partnership portfolios. 
Ms. Woods began her federal service in MBDA's Chicago Regional Office, bringing to her position a notable record of career advancement in customer relationship management and corporate communications.  Hired as a business development specialist, she designed and implemented the first "Global Business-to-Business Exchange" program for minority-owned firms located in the Midwest. Ms. Woods also enhanced the Agency's regional visibility and brand image through improved marketing strategies, technology, and strategic alliance development with elected officials, resource agencies, and procurement representatives. Her last position in the Chicago Regional Office was Acting Chief, leading community relations, stakeholder outreach, and staff alignment with national strategic objectives.
Prior to joining MBDA, Ms. Woods was the Director of Communication and Certification for the Chicago Minority Business Development Council, Inc. (CMBDC). As director, she provided leadership in designing and executing marketing communication strategies and oversaw all certification operations with a focus on affiliate engagement, recruitment, and retention.
Ms. Woods has a Master of Arts in Communication and a Graduate Certificate in Mediation & Negotiation from the University of Wisconsin-Milwaukee. She also has a Bachelor of Arts in Human Communication Studies from Howard University. A native of Chicago, Illinois, Ms. Woods currently resides in Takoma Park, MD.