About This Center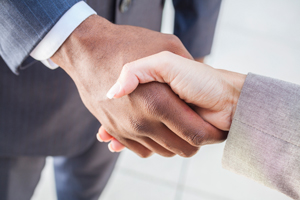 The Houston MBDA Business Center is operated by Houston Community College. The program is funded, in part, by the U.S. Department of Commerce through the Minority Business Development Agency and has been hosted at Houston Community College since September 2013. MBDA Business Centers are staffed by business specialists who help minority businesses access procurement opportunities, markets and capital.
Our Mission
To foster the growth and global competitiveness of U.S. businesses that are minority-owned by facilitating transactions through referrals; business consulting; contract proposal preparation; loan packaging and matching Minority Business Enterprises (MBEs) to contract opportunities and capital sources.
Staff Information
Marshette Turner has 25 years of experience in the MBE, Government Affairs and Non-Profit industries. She is the immediate past Director of Corporate Services for the Houston Minority Supplier Development Council (HMSDC), where she was responsible for actively engaging the corporate community as well as connecting them to Minority Business Enterprises (MBEs) to increase and expand business opportunities and growth for MBEs. She has previously served as the Director of External Affairs for the State of Illinois Comptroller's Office and Executive Director of the Rainbow PUSH Coalition which is headquartered in her hometown of Chicago, Illinois.
Turner is a graduate of DePaul University, and she holds memberships in various professional organizations including the American Association for Women in Community Colleges, National Association of Black Journalists (NABJ) and the Rainbow PUSH Coalition (RPC). For five consecutive years, she was featured as one of Chicago's Most Influential Leaders in Who's Who in Black Chicago. In her work as an avid education advocate, she serves on the Board of Directors of Red Brick Academy (founding board member) a proposed 5th through 8th grade school here in Houston, Texas and Save a Girl Save a World (SAGSAW) which is a multi-generational and esteem building program with an annual retreat held at HBCU's across the country during the Fall season. SAGSAW provides young girls and young women with a continued pipeline of support through mentorship and advocacy.
Turner is the proud mother of one son, Tyler who received his graduate degree in Sports Management from Sam Houston State University (SHSU).
Address
3100 Main Street, Suite 701
Houston, TX 77002
United States