About This Center
---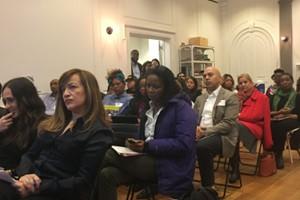 Our Manhattan MBDA Center supports the expansion of equitable business opportunities. Our outreach,advocacy and technical assistance services help minority-owned firms. We provide supportive services to assist MBE's gain access to contracts, and capital - supporting the growth of small businesses allowing them to create and retain jobs. Operated by the Business Outreach Center Network Inc., BOCNET's mission is to improve the economic prospects of traditionally underserved groups, with a focus on low- and moderate-income entrepreneurs and their communities, and thereby create genuinely brighter futures. At the heart of our mission is the belief that whatever their differences, people and communities share a common goal: to achieve economic stability and growth.
Our Center connect with our region's largest infrastructure projects, MBEs, corporations, and organizations; relationships which help both our clients and strategic partners. Although the Center is physically located on Wall Street in Manhattan, we can assist clients anywhere in the United States.
Learn more about the Manhattan Business Center
Visit the Manhattan MBDA Business Center website for additional information.
Staff Information
---
Program Director | Roxanne Neilson
Roxanne Neilson is the project director for the Manhattan MBDA Business Center located at 48 Wall Street. Funded by the Department of Commerce Minority Business Development Agency (MBDA), the MBDA Business Center's mission is to grow and strengthen Minority Business Enterprises (MBEs).
Roxanne is responsible for the strategic direction, marketing, outreach, and operations for the Center. She also provides assistance to Center clients in strategic, business and market planning; private and public procurement, finance, operations and business process improvement. Dr. Cheng Zhu is the Center's co-director and strategic advisor responsible for company growth and transformative leadership advisory services . Together the Manhattan MBDA team has assisted MBEs in generating over $450 million in contracts, financing, and sales and expanding equitable business opportunities.
The Center's portfolio of award winning clients consists of companies with capacity from most industries including information technology, broadcast media, healthcare, engineering, construction, manufacturing, energy, environmental, and professional services.
The Center has received special recognition and has been an Outstanding MBDA Performing Center since 2018.
Roxanne received her B.A. in Political Science from Swarthmore College and an A.S. in Applied Engineering from University of Hawaii. She earned Journeyman status as a Carpenter and Certified Welder as an apprentice in local 745 Carpenter & Joiners Union in Honolulu. Roxanne has decades of project management experience in infrastructure development and on large public private state wide projects. A real estate broker in her own construction and storage facility consulting company since 1999, Roxanne is the CTO for a family developed, built, and owned self storage facility located in Connecticut.
Address
48 Wall Street
5th Floor
New York, NY 10005
United States