The Secretary of Commerce has established a National Advisory Council on Minority Business Enterprise to provide advice to the Administration on key issues pertaining to the growth and global competitiveness of the nation's minority-owned and operated corporations.
The Council will undertake matters to provide advice and develop recommendations to the President through the Secretary of Commerce on a broad range of domestic and international issues that concern minority businesses including but not limited to:
Developing strategies and polices to position minority-owned firms to compete in the global economy

Developing market based criteria and strategies for gaining access to global supply chains of major corporations

Developing strategies for eliminating domestic and global barriers to growth

Developing strategies to expand minority-owned firm participation in emerging industries

Developing market based strategies to achieve economic parity by 2050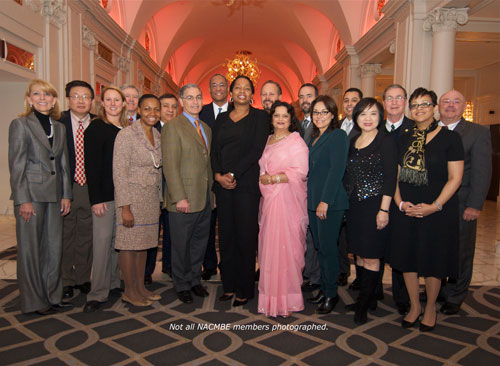 Work of the Council
The National Advisory Council on Minority Business Enterprise has been working on recommendations for the Secretary of Commerce to accelerate the growth of Minority Business Enterprises (MBEs) in domestic and global markets.  Since March 11, 2011, the Advisory Council has held five full meetings, numerous teleconference calls and conducted research and interviews with government executives, minority business entrepreneurs and academics to learn more about opportunities for growth for minority-owned businesses.  
In support of efforts to develop recommendations for the Secretary of Commerce, the Advisory Council is currently conducting focus groups with the CEOs of MBEs to learn more about the challenges and enablers to business growth.  Findings from the focus groups will further inform recommendations that will promote the growth and competitiveness of the nation's MBEs.  Participation in focus groups is by invitation only and based on a diversity of business criteria to ensure a balance of opinions. Focus groups are being held in cities across the nation including, Fairfax, Chicago, Houston, New York City and Los Angeles, February through April 2012.
NACMBE Meetings
December 10, 2013 Meeting
December 6, 2012 Meeting
May 15, 2012 Meeting
February 6, 2012 Meeting
December 12, 2011 Meeting
September 29, 2011 Meeting
June 24, 2011 Meeting
March 11, 2011 Meeting
NACMBE Press Releases
Call for Nominations

MBDA will continue to accept nominations on an ongoing basis and will consider nominations received after March 30, 2011 if the open Council membership positions are not filled and as future council vacancies arise.
View the Federal Register Notice of Solicitation of Nominations for Membership to National Advisory Council on Minority Business Enterprise (NACMBE)